Neuropixels drive and fixture
ATLAS neuro designs and fabricates drives and re-usable fixtures for commercially available probe arrays such as Neuropixels. There is an adjustable miro drive, a reusable single fixture and dual fixture available for the NP1.0 probe and NP2.0 probe [1]. ATLAS can do the probe alignment and probe assembly as a service but in case you want to do this yourself we can provide an alignment and assembly holder with manual.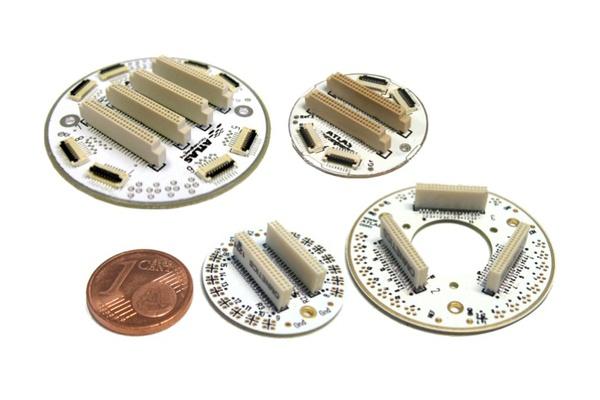 Electrode interface boards
Our electrode interface boards (EIBs) are in general equipped with cost-effective zero-insertion-force (ZIF) connectors interfacing with our chronic probe arrays. In contrast, the connection to headstages is typically achieved by Omnetics connectors designed for a large number of mating cycles. Due to the non-permanent – nonetheless reliable – interface between EIB and chronic probe using the ZIF connectors, EIBs by ATLAS can be re-used even though the chronic probe cannot be released from the dental acrylic. This lowers the unit price per chronic electrode array.
ATLAS provides EIBs for a broad range of commercially available headstages and we can help with custom-solutions for your home-build headstages or other type of adapter boards.